FREQUENTLY ASKED QUESTIONS
Once activate the gift certificate, the person receiving the gift certificate must have access to the internet to buy their tickets online. They will also have to join cineplex.com.au before they can type their username and password in the activation URL.
If your activation URL is not working then please have the person who bought the certificate re-email you the link. They can do this by logging into their Cineplex account and go to "Gift Certificates" in "Member Section".
Yes. Once you have bought the gift certificate you can always resend the activation url from your member page under the gift certificates tab.
Login as member, access Gift Certificate menu to activate the gift certificate you received.
Or you can ask Sender to resend the gift certificate via email using the same menu of their user accounts.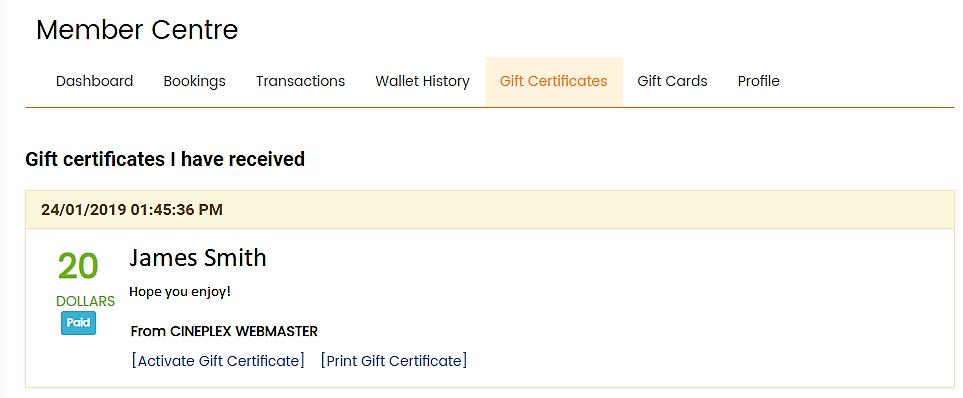 Actually, you can activate the gift certificate directly via email link without having the code. Otherwise, you can login to website as member then access Gift Certificate menu then click [Print your Gift Certificate] to get the activation code for redeeming.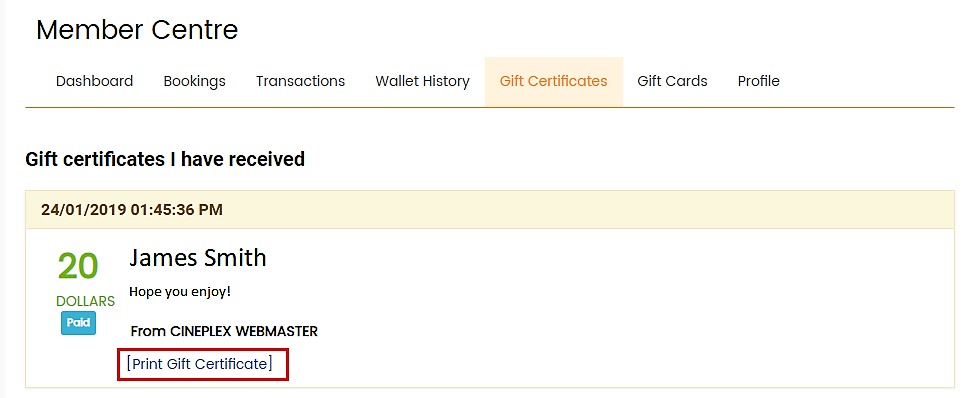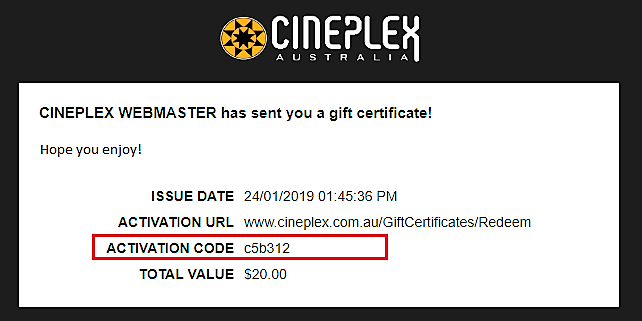 Yes. You can login into website as member, access Gift Certificate menu then click [Edit] to start modifying the gift certificate's information.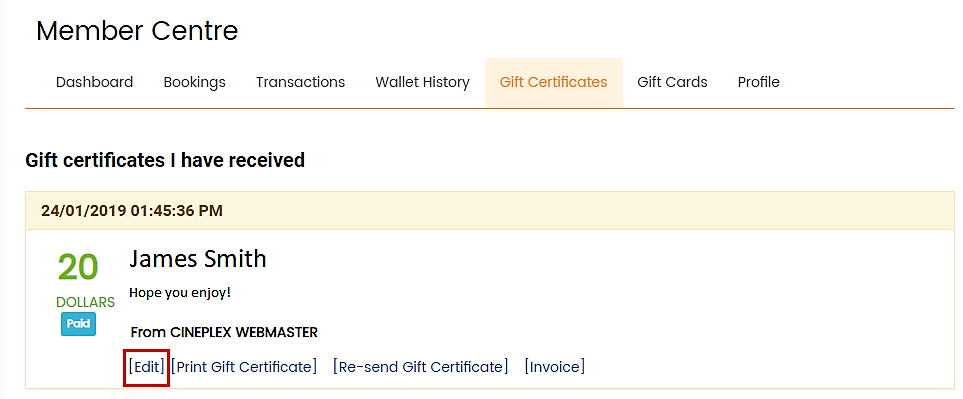 Login as member, access Gift Certificate menu then click [Print Gift Certificate].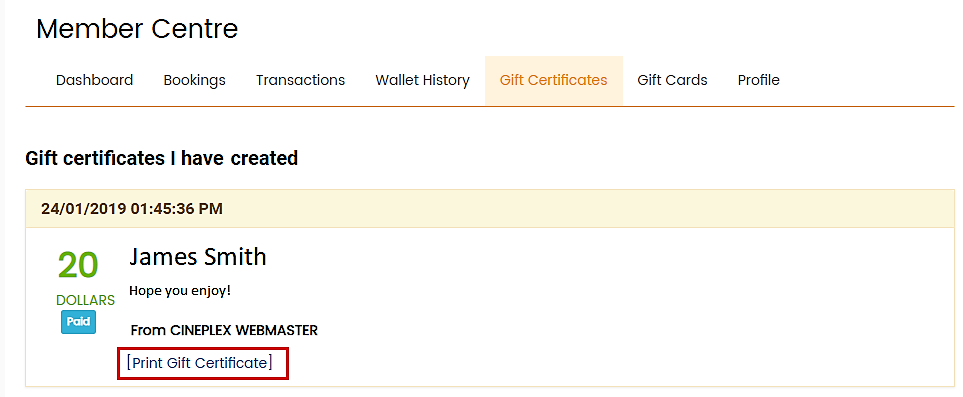 Yes. You can login into website as member, access Gift Certificate menu then click [Print Gift Certificate] to print out the gift certificate you created. You also can modify the recipient's email address before resending gift certificate by clicking on [Edit].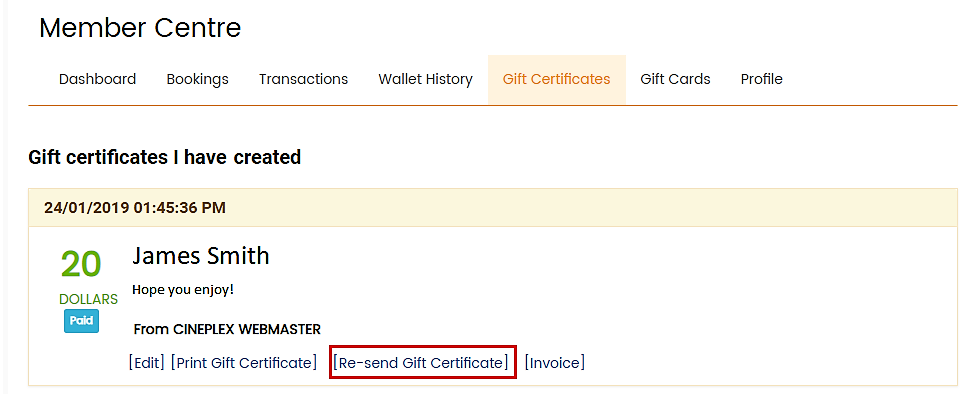 The advantages of online gift certificates is that it is virtually paperless. There is no expiry with the money in the wallet, and they can use a variety of ticket purchasers eg adult, student, child, two adults, Deluxe, 3d movies etc.
We are aware of some infrequent internet bookings that fail. When this happens the software will add the failed amount to your wallet so that you may book again. If you are unlucky to have the software crash during your booking and the money is not in your wallet, then please click on my receipts on your member homepage as sometimes even though the transaction crashes sometimes they end up being successful. If there are further problems with internet bookings, then please contact us.
The booking can only be cancelled 30 minutes prior to the session time. To cancel a booking, firstly you need to login to website as member, access Bookings menu then click on Cancel / Refund Booking button. Finally, you can click on Yes in popup window to confirm the booking cancellation.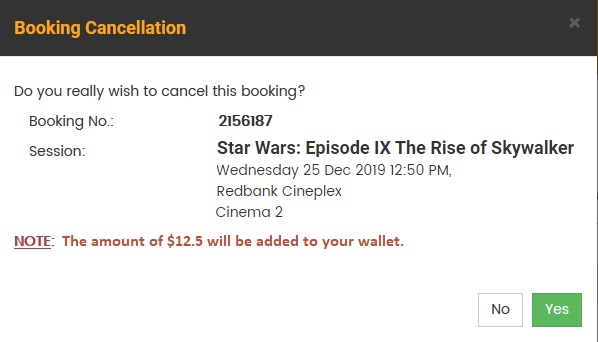 Sessions are displayed on the website as soon as the times are confirmed, which is generally on Tuesday evenings or Wednesday morning.
Seating numbers are shown in real time in the movie session details when you are making a booking. Please phone the cinema you wish to attend if you want to know about available seating for a particular session. For example: if Harry Potter has sold out at 12pm.
We accept resumes over the counter at the ticket box, or simply apply online.
We do not make return calls responding to an enquiry. However, we do reply via e-mail. Please phone one of the cinemas should you wish to speak to someone in person.
Activation emails generally take a few minutes to arrive. If the email has not arrived then please check your junk inbox. If still not there then click on password retrieval and type in your email address and the software will resend the link to activate your account. If you are in USA or Canada then please log in to www.cineplex.com to retrieve your password to log into your account.
Log in as a member, choose your movie and cinema, then choose to pay for your tickets with your wallet.
Enquiry Form
Your problem hasn't been solved yet? Please send us your concern by using the form below.